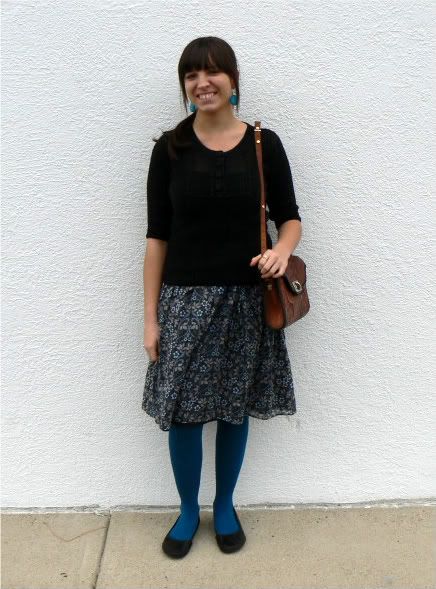 November 18, 2009

Yesterday was the debut of the opaque blue tights I bought in the SUMMER. I have been waiting forever to wear them. I've tried a couple of times with hesitation but ended up coping out. When I saw this Banana Republic skirt at my local Goodwill (brand new with tags!) for only $2, I immediately thought of the nice contrast it would make with my tights. So there you have it.

I went out to lunch with a friend and then spent the WHOLE afternoon thrifting. With all of the stress from work and school, there is nothing more relaxing to me than shopping.. except for when I spend too much, which will stress me out later when I do the calculations of how much I spent.. which is why thrifting is the perfect answer! I had some amazing finds yesterday.. they will all appear in future posts! For about $40, I got: a vintage 1960s fur-trimmed wool coat (so amazing), an electric blue 1980s blazer, a Free People blouse, a Gap dress, vintage 1960's? nightgown that I will be wearing as a dress, and a vintage 1980s gold and black belt. Not too shabby!

Later on Patrick met up with me at my dad's house where my stepmom made an amazing Mexican dinner.. I wish we had pictures. Desert= cayenne infused pot de cremme topped with whipped cream.. all homemade by my stepmom. It's probably my favorite desert.

I would also like to take this time to mention an amazing friend's upcoming blog. She is such a talented writer and I was reading her newest post about childhood and, as always, was blown away. One line in particular was exceptionally thought provoking:
"We don't have to know innocence to experience astonishment."
This girl is such an incredible writer. Check her out, you will be glad you did.
http://salexab.wordpress.com/
Outfit details:
Earrings: H&M
Purse: Etsy
Sweater: Thrifted
Skirt: Thrifted
Tights: Gap
Flats: DSW