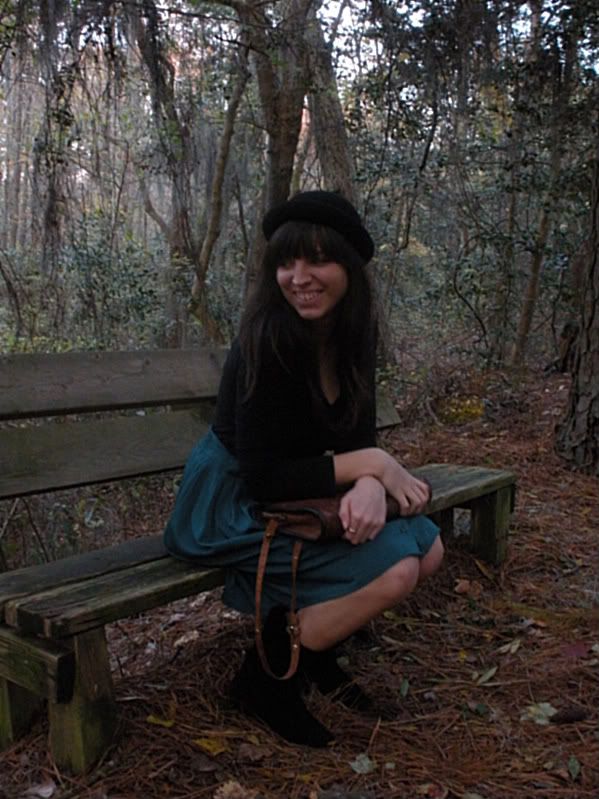 November 16, 2009
Yesterday was the most BEAUTIFUL day. It was the first day that I actually noticed all of the leaves changing color and even though the nip in the air was missing (thus the skirt with no tights), there was something in the air that just finally felt like fall. I felt really inspired to wear darker colors in lieu of the approaching doom of winter. I wish it was fall year-round, it's by far my favorite season. I also haven't changed my purse in months, so beware: it will be hanging around for a long time. But maybe, like me, you won't get tired of looking at it. When I spotted this baby on Etsy, I knew it HAD to be mine. The hand-tooled leather is so much more beautiful than pictures could ever show and it is so sturdy! I am just so in love with it.


My boyfriend and I ventured off to the local state park and had a wonderful time. Even though I'm not used to being the center of attention and I don't really know what to do when someone is taking a picture of just me, he made it a lot of fun!
Oh, and I can't forget to mention that it was date night.. we had dinner at Eat and then saw "Pirate Radio." (Which, by the way, I have to mention is one of the best movies that I have seen in a long time.)

On another note, how did I do on my first post? Even though I have had many little blog experiments in the past, I feel like this blog is completely different and completely new, uncharted territory. I've been admiring other independent fashion bloggers for months and months and months now and they have inspired me to finally take the leap and create my own. Finders Keepers is dedicated to being creative and fashionable on a budget.. trust me.. I mean a TIGHT budget. I absolutely love thrifting and finding great vintage treasures and incorporating them into outfits with modern pieces to keep things balanced(thus, Finders Keepers). My goal is to build more courage and become more bold with my outfits as well as continuously develop and evolve my personal style.


Outfit details:
Hat: H&M
Shirt: H&M
Skirt: Etsy
Suede boots: Nordstrom B.P.
Purse: Etsy