Forever 21 has just launched two new lines, Boutique and Forever 21 Collection. I just found these on their website while browsing, so I won't get a chance to tell you about the quality or fit just yet (but that will come later, I promse). But I will give a quick overview of each!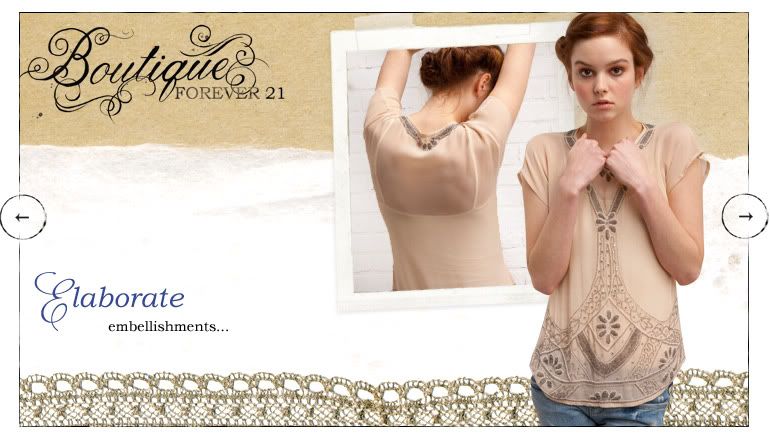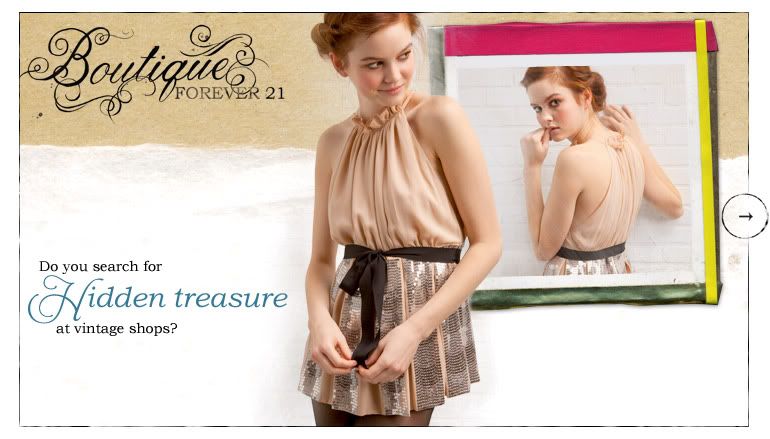 Boutique
is Forever 21's vintage-inspired line. Lots of embellishments and details are the main features of this line, along with romantic colors. I loved the outfits above from the lookbook, yet the clothes on the website right now don't impress me too much. Maybe after they get more clothing in stock I will love it more.. But I do really want the top in the firstpictures so very much.. isn't it lovely?! I'm also ecstatic that more vintage-inspired pieces are appearing in stores everywhere! Although nothing could ever beat the thrill and satisfaction of thrifting and hunting for authentic vintage finds.
Collection
claims to have high-quality fabrics and design.. I suppose we won't know about the quality just yet, but I can comment on the design. In general, I was disappointed. Nothing screamed out at me as high-end and a lot of it looks like clubwear to be honest. There were a few pieces I liked, such as this
Sequin Vine Shoulder Top
, however.
Like I said, I'm sure they will be adding much more to both collections over the next couple of weeks, especially as Christmas season approaches. Perhaps the quality of these collections will be overwhelmingly better than the poorly constructed
Twelve By Twelve collection
(even though a lot of it was adorable.. sigh..).